Extracurricular activities are anything a student does outside the classroom. These might include school clubs, work, volunteering, or hobbies. Activities give students a chance to explore interests, demonstrate leadership, and be a force for positive change. History related activities can help students show they have experience with research, analysis, and presentation that they might use as a history major. I collected a few examples of of history extracurricular activities that high school students can join. Hopefully, it will help you think of options in your area.
National History Day Competition
National History Day (NHD) is a history competition based around an annual theme. Students research using primary and secondary sources, then present their analysis and conclusions in one of five categories: documentary, exhibit, paper, performance, or website. Each category is judged separately according to criteria appropriate for that type of presentation. The 2024 theme is Turning Points in History, which could describe many directions for historical research.
Depending on your local area, there may be initial contests at the school, district, Regional, or Affiliate level. Winners of Affiliate level competitions go on to the National competition. The Affiliate Coordinator for your area will have details on local contest dates, deadlines, and supporting organizations. Each new NHD contest cycle begins in June, with the conclusion of the previous year's competition.
This is a well-known high school history activity across the US, with a number of local and state history organizations supporting student projects. I love that there are several ways of presenting the research. One of our neighbors discovered an interest in film production through their National History Day project.
Library of Congress Veterans History Project
The Library of Congress Veterans History Project (VHP) is a program that collects, catalogs, and digitizes oral histories, photos, and diaries from US military veterans. You could start small, by interviewing veterans in your family or neighborhood. But this could also become a significant activity by collecting larger sets of histories from veterans.
Some successful projects have concentrated on veterans from a particular era or conflict; special categories of veterans, such as Black or women veterans; veterans from a local area, retirement facility; or veterans' organization. Often, Members of Congress are eager to support larger collection efforts. The VHP website has a list of partner organizations listed by state. These organizations may have ongoing projects that students can join or might offer support to new collections.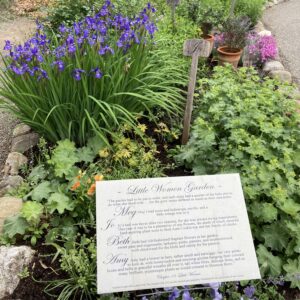 Local Historical Societies, Historic Sites, and Museums
There are historic sites, local history societies, and history museums in almost every community. You might be familiar with Historic Sites and Historic Trails that are part of the National Parks Service. These have volunteer opportunities through the Volunteers in Parks (VIP) program. You can find the volunteer coordinator in the Get Involved section for each site.
You should also look for historic sites, museums, and historical societies run by state, county, or local groups. Because local historic organizations often run on shoestring budgets, they are often in dire need of volunteer help and may be more flexible with age or experience requirements for volunteers. Possible volunteer activities might include preparing exhibits or brochures, cataloging artifacts, staffing booths at local festivals, serving as a docent, or assisting with group events. Some areas have specialized history libraries and archives within state or local library systems. You might even have access to local historic ships or aviation museums.
Model United Nations
At first glance, Model UN might not seem like a history related activity. But current conflicts often derive from historical grievances. What's more, many Model UN conferences include historic crisis simulations. In a historic simulation, students might debate the treaty ending World War One, the Fall of the Berlin War, or the Cuban Missile Crisis. Many conferences require delegates to submit a position paper representing their country's policy on the stated committee topic.
To get started, look for a Model UN league in your area, MUN conferences for high school students sponsored by colleges, or online conferences. You can even start small with a single committee conference at your own school. If you decide to organize a small conference, plan to create background guides to give delegates a common framework for committee debates.
Similar activities include Girls State and Boys State conferences, Youth in Government, Mock Trial or Moot Court, and debate competitions.
Historic Marker Projects
You might be familiar with roadside historic markers. These are large markers that describe historic events that took place at or near the spot where the marker is placed. These markers are often suggested by local organizations that sponsor the sign. Students interested in history might research the history around a local site or individual and nominate a new marker.
In my county, the efforts of local students were so effective that the county board of supervisors created a county-wide Historical Marker program to explain and encourage submission of nominations. You can find the process for nominating new markers in your area by searching for the name of your state and "historic marker".
Digital Transcription Projects
Digitization of historic records makes them widely available to historians around the world. But an image isn't easily searchable on its own and optical character recognition software often struggles with handwritten records. Digital transcription projects are crowd sourced efforts to record the contents of digitized records and catalog them in searchable formats.
The Smithsonian Institution Digital Volunteer Transcription Center is a long-running transcription project open to any volunteer. Past projects included a collection of material relating to the life of the first successful dirigible pilot in the US, a 1925 scrapbook from a graduate of Prairie View College (now Prairie View A&M University), and audio transcriptions of the Adventures in Science program from the 1950s. Available projects change frequently.
This is a history extracurricular activity that could be done as an independent project, pursued whenever the student has time. Or it might be an ongoing project done on-site at local museums, historical societies, and archives.
You can find other projects run by state and local museums and archives by searching for "history digital transcription projects." Don't be afraid to approach a local group to ask if they have a collection that needs to be transcribed.
Living History and Reenactments
Some students find a period of history so interesting that they want to immerse themselves in the events they study. Reenactments and living history allow them the opportunity to dress, eat, and act as they would have in the past. Local historic sites often have costumed guides to interpret the site to visitors. Military reenactments engage in group encampments and staging battle engagements from periods as diverse as the American Revolution, World War Two, and Ancient Rome.
Reenacting can be a history related activity that is quite addictive and sometimes expensive — presenting a Roman centurion requires more investment than a 19th century farmer. Look for living history days or marching through time events in your area to connect with local reenactors. Approach local historic sites to see if they support living history presentations or would like to add one to their programing. Living history can be a way for students to combine their interests in acting or fashion with history research.
Get Creative to Find History Extracurricular Activities
If the suggestions I've mentioned don't float your boat, use them as creative springboards. Instead of veterans, maybe you want to interview older neighbors who remember your community before a freeway was built or when they helped desegregate the local library. Your local historical society might want help creating a display for the government center or staffing a table at the local festival. Or your high school might want to do a display to recognize the anniversary of a milestone event.
Students interested in history might combine some of these activities. For example, you could help a local library digitize and share local newspapers. Or you could create a living history impression to research in a National History Day presentation. Or you might help a historic site create traveling trunks with reproduction documents and artifacts to loan out to area classrooms and groups.
One fun aspect of getting involved with history related activities is that the other volunteers are not only also interested in history, but often witnessed historic events themselves. When members of my family volunteered at aviation museums, fellow docents were not only former pilots, but some had experience flying the actual aircraft on display.